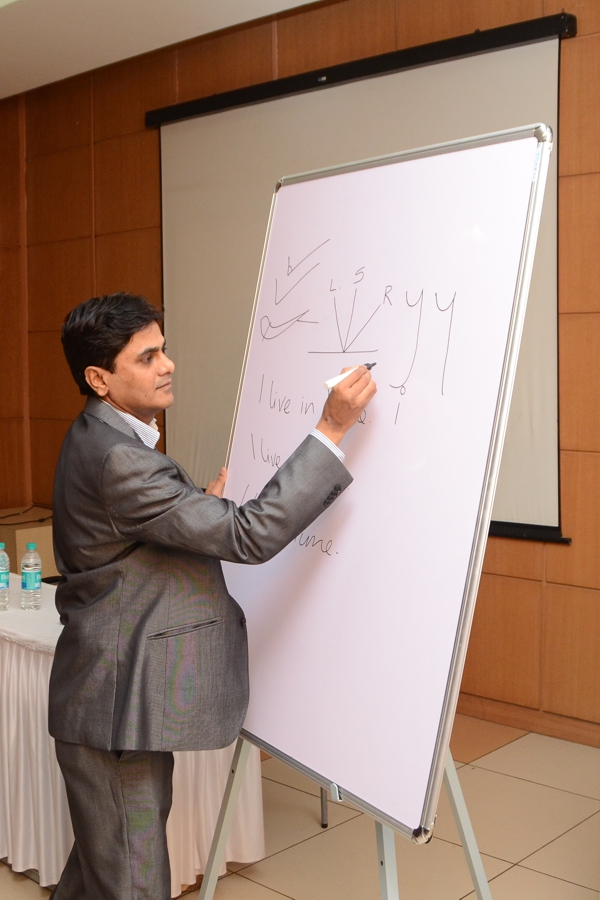 Few words about International Institute of Graphology
International Institute of Graphology (IIG) is a premium institute providing Graphology training. International Institute of Graphology is also actively involved in continuous research in the field of Graphology and Handwriting Analysis. Institute provides Graphology training at Personal, Corporate and Group level.
Institute also provides different services based on Graphology like Recruitment Analysis Support, Analysis of logos and Designing new logo, Personal and Career Counseling, Forgery verification, signature verification, Personality/Trait/Behavior Analysis of a person, etc..
---
What is Graphology?

Benefits of Graphology

Areas of Graphology Application

Graphology - In simple terms Graphology is scientific study of Graphs, conducted to understand human behavior, psychology and subconscious makeup of a person. Here Graphs means human handwritten formation created using a pen or pencil.

Graphology is also famously known as Handwriting Analysis. Graphology is not only limited to handwriting, its encompasses signature, doodles, drawings and symbols written/drawn.

Graphology (Handwriting Analysis) is beneficial to everyone in their professional as well as personal life. Below are few important benefits of Graphology.

1. To understand self and other in better way.
2. To understand potentials and weakness of self and others.
3. To understand and overcome the depression and fears
4. To understand inclination and disinclination towards specific area.
5. To understand ability lead and manage people.
6. To understand time management, planning and organization skills.


1. Self Awareness
2. Self Improvement
3. Psychology
4. Counseling
5. Parenting
6. Career Guidance
7. Life Partner Compatibility
8. Business Partner Compatability
9. Employee Assessment
10. Employee Recruitment

The Class was a pleasurable experience and it was also great to learn the secrets revealed by a person's handwriting. The faculty was also very knowledgeable and the pace set by him was not too fast and explanations provided by him were very lucid and very easy to understand. The interactive methodology of training was very effective and held everyone's interest.

"Right from the start, i.e. registration to class conduction and completion, IIG has impressed me with their friendly yet efficient and professional manner - an approach that not only helped me with learning Graphology as intended but also manage work seamlessly alongside classes on account of the flexibility provided. Before IIG, I was vaguely knowledgeable in handwriting analysis and always wished to learn more. This seemed improbable until IIG provided me with this opportunity in Infosys. Thanks to IIG, now I can perform handwriting analysis with confidence and happily tag this skill to myself henceforth. Because of their ample experience and studies, I believe IIG's expertise has helped us students gain a lot of knowledge and ability to have fresh and interesting insights into our day-to-day lives

I am a Mechanical Engineer by profession working for a Manufacturing industry. To build my career to the next level I wanted personality honing. I found this Course in Infosys – Pune. Out of curiosity I got my handwriting analyzed. Sandip's handwriting and signature analysis was really correct. I got to know some of the things which I never guessed and got to know both positive and negative aspects in my personality. I was spellbound by his analysis. I asked him the solution and he assured me of results in Graphology Class. I joined this course to improve my long term dream of improving my personality. I really liked the idea of changing thoughts by changing actions (hand writing). I learned basic traits and basic personality profiles in level 1 out of 4 levels. Where I found some traits in my handwriting which leads worse in my life. Now I am changing my handwriting to change my life. Expecting positive change in my personality.

First of all thanks for taking graphology sessions in Infosys. The sessions have been very interesting and insightful. The facts and the proofs discussed were the life of the sessions. Towards the end of this course we really could understand how a human's thoughts and mentality are revealed in their handwriting. Very intriguing and useful course. Thanks again :)

It was an immense pleasure learning something new which enhances our knowledge and also helps in personal development as well as helps us understand people's nature and attitude which acts as guidance factor for people like me who believes anyone very fast. Also the sessions were quite interesting with practical examples and interactive discussion. Special thanks to Sandip sir for arranging these session and show us a way learning new things in life :)

This graphology course is really life changing opportunity which I learned is really gives me the great view towards my life. Definitely it vibrate positively in my day to day activity. At least I aware that what's wrong in my writing, just changing simple things in my handwriting will back me on track. Through this course we can analyze the personalities and approach of others towards you and vice versa, and keep the healthy environment.

It was great experience to learn hand writing analysis..when I started attending graphology session that time starting realizing how can handwriting can tell nature as well as characteristics of person..It was great fun when Sandip sir giving proving any terminology with real situation examples.. I am confident that it is helping me to improve my personality. Due to this class I realized about myself. Thanks a lot Sandip sir and this class.

It was great to learn from you, there are no suggestions I can give for improvement as everything was totally right. The effort to teach from your end was always above expectations. The classes have improved my knowledge about various other things also( Symbols, diff personalities, celebrities etc.).  It was impossible for me to travel long distance to study Graphology somewhere else, this was the best opportunity for me to learn and hence I am happy to say that I have learned a lot from you.

Met Sandip sir in FC2 while having free-handwriting analysis. Was in dilemma, how any handwriting can be used to judge a personality? And after the analysis, the first thing I wanted to do is enroll for the class! Graphology session - These 2 days/week class are like daily stress buster and in return I am learning more and more about myself and people around. In class you come to know why and how the character/words you write on paper depicts a part of your personality. Sandip sir ask question and give reason 'Why' a particular character represent a characteristic/trait. The class is full of laughter, discussions and views from different participants along with real life incident which Sandip sir share with us. I will highly recommend this session to anyone who's curious 'How' your handwriting depicts your personality.

Graphology classes was an excellent experience. I was surprised to see that we can actually know people's traits through handwriting. It was a great learning experience and full of fun. A real refresher after the hectic and boring daily schedule of work.

First of all thanks for taking graphology sessions in Infosys. The sessions have been very interesting and insightful. The facts and the proofs discussed were the life of the sessions. Towards the end of this course we really could understand how a human's thoughts and mentality are revealed in their handwriting. Very intriguing and useful course. Thanks again.

It was nice experience to share a classroom with Ashish, Jootika & Sarika. I hope Sandip Sir also enjoyed the teaching! Graphology's Concept building thoughts given by Sandip Sir is a good experience & can be remembered long time as that are very much explained by giving day-to-day examples. Last but important phase of one-to-one discussion that happened yesterday which is Cherry on the Cake kind of experience!

The course introduced you to an entirely new world. It is interesting to learn how one's handwriting can reveal so much about his personality. Course is definitely good value for money. All topics were covered in detail and due time was given to entire course. Mr. Sandip possesses good knowledge on the subject.

The course really helped us understand how our writing can have impact on our life. It was really nice to know how one can analyze a person's behavior and the environment in which he is brought up in through his writing. Thank you for letting us have such a wonderful experience

I have joined this course at the Infosys campus @ Pune in the month of Dec'13. During this short span of the course, it was really interesting to know the way your handwriting can speak about you. Sandip has organized the course really well and all major concepts were though during the duration. I wish to learn the concepts even further and plan to take a detail course. All the very best to Sandip & the International Institute of Graphology.

Graphology course is really helping for me. By the help of this course I am able to understand myself as well as a few others better than before. Above all these ,I am able to understand how to identify the nature of a person by just looking at the handwriting. It is really a nice experience of learning graphology. Sessions are quite interactive(which is really helpful) and interesting. The knowledge gained by these sessions will really  be helpful for me in future.

Graphology course: Very interesting. Got a lot of insights into identifying the personalities of people. Still a long way to completely comprehend all concepts. Tutor: Presents concepts in an interesting manner and provides lot of examples to ease understanding

Graphology is very interesting and deep topic to study. You are teaching it very simple and correct way, no doubt. I am enjoying the class. As Practice makes man perfect, I am sure I will surely understand traits. Only one suggestion is that If you provide any notes for future reference that will be good, as we may write different as per our understanding, and may have missed something.

I am Sumeet Sherekar, I am in Legal field. I heard a lot about Graphology but never really got a chance to know it until I mate with IIG's Sandip Sir; it was a wonderful learning experience to know about Symbolism and Graphs in detail at Graphology Class conducted in Infosys. I have never given a thought that Handwriting can reveal so many things of anybody's personality. In class we have seen so many examples of different handwriting which were really helpful to co-relate with what we learnt. This is a great tool by which one can make very positive changes in self to be a successful in life. Sandip Sir was very articulate in disseminating the subject matter of the class. He was well prepared on the subject and was prepared to take any questions, which we might have had. Sir, I am waiting for your book on Graphology. I am very thankful to you that you have taken so much efforts to arrange sessions as per our schedules and cover-up for those who miss the class, I request you, if it is possible please conduct more advance level sessions in Infosys. Also, in class please provide some basic written notes in which we can add more examples and can take more notes. I wish a very best to IIG.